Harmonicollege

HarmoniCollege Pictures
Event Calendar
7th WV Harmonica Championship 2012 and The 2nd Harmonica Quadrathlon
Listen, read and see past WV Harmonica Championships
Play Along With Us
Audio Downloads
Harp Tabs to songs that we play
Pictures NEW links to PICASA ALBUMS
Videos
Lessons
Riffs Tab and Audio
Jam Tracks for practice
History of the Harmonica Club
Contact Us
Map to Gino's Pub where the club meets

LINKS to other Harmonica Related Sites
Buy "Evey Groove a Bluesman Needs to Know" by Jimi Lee
Silent Reeds
a place to remember club members
that have crossed over

---
RALPH RICHARD "DICK" KING
(Sep 28, 2013)


RALPH RICHARD "DICK" KING, 72 of Proctorville, Ohio, passed away, Thursday, September 26, 2013, in the Emogene Dolin Jones Hospice House, Huntington, W.Va. He was born December 3, 1940, in Huntington, W.Va., the son of the late Ralph Patrick and Ruth Wheeler King. He was a graduate of Barboursville High School, Accounting Graduate of Marshall University, retired from INCO - Huntington Alloys as a Pricing Analyst, member and current president of the Kiwanis Club of Huntington, member of the ThunderTones, Huntington Harmonica Club and First United Methodist Church, Huntington. He is survived by his loving wife Sue Foster King of Proctorville, Ohio; two sons, Thad (Belinda) King of Columbus, Ohio, Doug (Christy) King of Williamsburg, Va.; one daughter, Ann (Jeff) Dickinson of Columbus, Ohio; one sister, Sue Ann (Jack) Moore of Westerville, Ohio; grandchildren Erin Caldwell, Caleb King, Tyler King, Seth King, Kyle Dickinson and Abbey King; three great-grandchildren and a host of nieces, nephews and friends. In lieu of flowers, memorial donations may be made to Kiwanis Club of Huntington, P.O. Box 1894, Huntington, WV 25719. A memorial service honoring Dick's life will be conducted at 5 p.m. on Saturday, September 28, 2013, at Henson & Kitchen Mortuary, Barboursville, W.Va., with Pastor I. Mark Conner officiating. Family will receive friends from 3 p.m. until service time at the funeral home on Saturday. Online condolences and memories may be shared with the family by visiting www.hensonmortuary.com.

---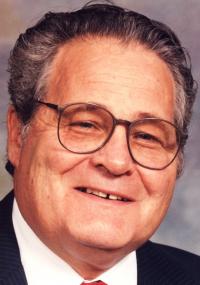 (Dec 11, 2012)
MR. LONNIE HAROLD BOWDEN, 79, of Barboursville, West Virginia, went to be with the Lord on Thursday, December 6, 2012. He is survived by his wife of 50 years, Rebecca Marilyn Skaggs Bowden, his partner in life and the mother of his children. Lonnie was born March 21, 1933, in Huntington, West Virginia to his father and mother the late Lonnie Bowden and the late Ruth Genevieve O'Lynn. He is preceded in death by sister Shirley Bowden and granddaughter Mikaela Bock, and he is survived by sister Judy Skaggs and brother Eugene Bowden. Lonnie was the beloved father of three surviving daughters, Lonna Setliff (Paul Davis), Christine Edwards (Dr. Ben Edwards), Maria Bock (John Bock), and one surviving son, Shawn Bowden (Terri Bowden). He was the proud grandfather of fifteen surviving grandchildren, Nathaniel Wall (Stacy Wall), Genevieve Jenkins (Christina Smith), Candace Copley (Cole Bartrum), Meagan Cregut, Sally Edwards (Justin Stanley), Alan Edwards, Madeline Davis, Tanya Abbett, Maxwell Setliff (Chloe' Falcone), Michael Bock, Tyler Abbett, Harrison Davis, Nicholas Setliff, Hunter Pyles and Savannah Bowden. Lonnie was also blessed with ten great-grandchildren, Michaela Fisher, Morgan Fisher, Tianna Bartrum, Coleton Bartrum, Ian Cregut, Solomon Falcone, Merlyn Falcone, Kori Copley, Grayson Wall and Kyndal Bartrum; and a host of

nieces, nephews, and church friends. Lonnie Bowden graduated from Barboursville High School in 1952 and received a football scholarship to continue his education at Marshall University. He graduated from Marshall University in 1963 with a Bachelors of Art in Education. He served his community by teaching and coaching in Cabell County schools and by being an active member of Barboursville Baptist Church, where he served as a deacon, taught Sunday school and sang in the choir for many years. Lonnie also served his country and was proudly recognized as a U.S. Air Force Korean War veteran. We would like to give a special thanks to Sarah Care and Lonnie's caregivers David Scruggs and Tomia Teasley and her daughter Athena. Visitation will be at Wallace Funeral Home, Barboursville, from 6 p.m. to 8 p.m. Tuesday, December 11, 2012. The memorial service will be performed by his grandson Pastor Nathaniel Wall, at Wallace Funeral Home & Chapel, Barboursville, at 11 a.m. on Wednesday, December 12, 2012.


---
(Feb 17, 2012)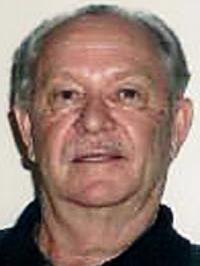 CHARLIE E. HUTCHINSON, 70, of Chesapeake, Ohio passed away Wednesday, February 15, 2012, at St. Mary's Medical Center, Huntington, W.Va. He was born May 17, 1941, in Huntington, son of the late Auspin and Bessie Arthur Hutchinson. In addition to his parents, he was preceded in death by two brothers Billy Ray "Huck" Hutchinson and Bob Hutchinson. He is survived by his wife Nancy Hutchinson; son Eddie Hutchinson of Huntington; daughter Lisa Hutchinson of Huntington; four grandchildren Charlie Hutchinson, Zachary Hutchinson, Audrey Hutchinson and Jacque Belcher; five great-grandchildren; two sisters Betty "Bo" Hutchinson of Huntington and Edna Hutchinson Powell of Florida; two brothers Jerry Hutchinson of Huntington and Randy Hutchinson of Huntington; several nieces and nephews; and all his friends at Flap Jacks. He retired from American Water Corporation. Charlie was a member of the Elks #313, Huntington and a member of the Huntington Harmonica Club. Funeral service will be 4 p.m. Friday, February 17, 2012, at Hall Funeral Home. Visitation will be from 3 to 4 p.m. Friday, February 17, 2012, at Hall Funeral Home, Proctorville, Ohio

---
(Mar 25, 2006)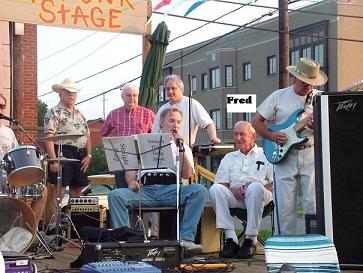 FREDDIE M. MILLER, 82, of Huntington, husband of Emma Miller, died Friday in St. Mary's Medical Center. He retired from the former INCO Alloys and Miller and from Bates Construction Co. Funeral service will be 2 p.m. Monday, Chapman's Mortuary, Huntington; burial follows in Woodmere Memorial Park, Huntington. Visitation is two hours before service Monday at the funeral home. Memorials may be made to Hospice of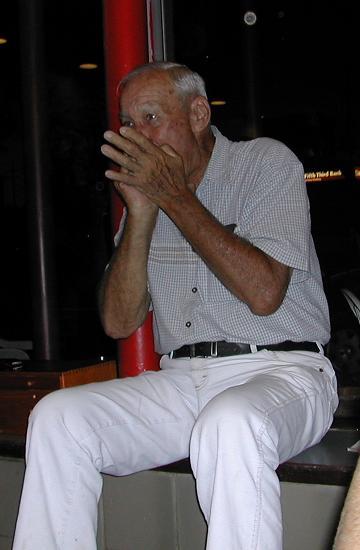 Huntington
















Fred sitting in the window at The Java Joint









Fred sitting at Pullma Square at our Tuesday night concert